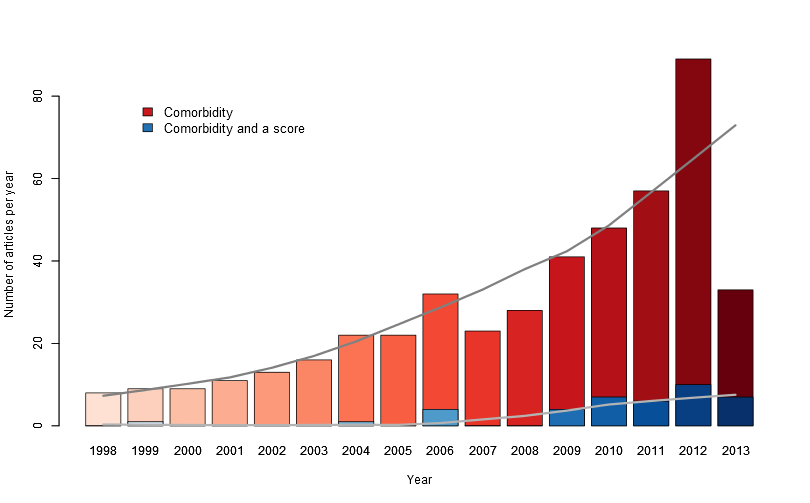 When I started my PhD-studies I had this idea that if we know the exact medical status of the patients and implant characteristics we will be able to explain why and when people are re-operated after total hip replacements (THR). Three years later I have just published an article in the Bone and Joint Journal about how wrong I was. In this post I'll try to give some personal reflections on the article.
The results
The main high-lights from the article are
The most commonly used comorbidity measure (the Charlson score) does not aid in predicting re-operations
The best performing score, the Elixhauser score, is still far from good – barely making an impact on the predictive power of the model
Cemented implants are only better for females, the long standing dogma disappears when checking for gender interactions – males actually do OK with uncemented implants
While the point 1 and 2 were disappointing it does seem to explain why age is not a strong confounder, in the period after 2 years it actually turns out that the older you are the lesser the risk of a re-operation. There is a risk of bias due to that age and comorbidities may discourage a surgeon from re-operating, unfortunately I have found no way to fully account for this bias. This could be an area where patient reported outcomes can help out.
The third point is interesting as I have not heard of gender hip implants while gender knees have gained a lot of interest. It is plausible that females have a different anatomy that the current uncemented hips fail to accommodate, it would be exciting to see some research into this field.
Apart from this I can recommend to have a look at my graphs that I developed for this article. The Bone and Joint Journal were actually kind enough to publish them all in color, I'll try to post some examples soon in the R-section of this blog.
M. Gordon, A. Stark, O. G. Sköldenberg, J. Kärrholm, and G. Garellick, "The influence of comorbidity scores on re-operations following primary total hip replacement Comparison and validation of three comorbidity measures," Bone Joint J, vol. 95-B, no. 9, pp. 1184–1191, Sep. 2013.